Cook Food, Serve Love…
Cooking gas…the reason for your 'Good Morning' tea, luscious lunch & delicious dinner! And yes, also a reason for thousand of scrumptious delicacies & smiles of your loved ones.

They say that "Way to man's heart is through his stomach." This is true for every individual. Even in today's Junk Food Age, we still love the food with homely ambience & served with love. With our technically qualified team, ensuring complete safety and quality of the services, we bring you the gift of homely food. Rekha Gas Agency is reaching to you since 1981…just for being a reason of your small happy moments!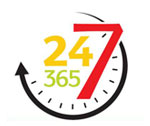 IVRS
Bharat Gas has been a precursor in bringing technology to our prestigious clients. Keeping this tradition alive, we are bringing you IVRS facility for refill booking.

Social Welfare
Apart from business, we are also cognizant of social debt. For the reason, we also arrange many social programs. Rekha Gas Agency has gained name in social fraternity of Jalgaon through its social work.