Being the reason for every flame in your kitchen…

Rekha Gas Agency was established in year 1981 by Mr. Dilip Choubey (B. E. Mechanical), a visionary man in Khandesh. He first worked in the Mico Bosch Co. at Nashik. But his urge to involve in social welfare & to provide great & clean service brought him to this field. In 1981, he associated to 'Bharat Petroleum' & 'Rekha Gas Agency' came into existence.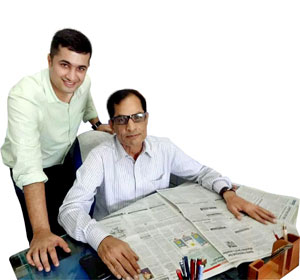 Till the date, Rekha Gas Agency has left no stone unturned in giving the best services. Today, is has acquired the status of a well known & reputed firm in Jalgaon which handles distribution of LPG Bharat Gas. At present, it has…………happy customers in Khandesh region. We have set professional as well as personal healthy relations with customers which helps us find our feedback.

Being situated in the heart of Jalgaon city, it is easier for us to communicate with our clients. Rekha Gas Agency provides cooking gas for domestic & business purpose, cutting gas for commercial & industrial use, gas appliances including gas stove, gas kit, Pressure cooker, fry pans etc in Jalgaon region (Maharashtra). The firm has a godown in the city. Due to the development in the business, the firm has another spacious godown in the MIDC area too.

Mr. Dilip Choubey is a man with social eye. He always thought of social welfare. He has left no stone unturned in case of social service. Rekha Gas Agency is always committed to social service…in the every way possible!